Products SMD Inductor
CHIP INDUCTOR (CIWF)
CHIP INDUCTOR (CIWF)
TYPE: CIWF2520 , CIWF3225
CHIP INDUCTOR
CIW
&
CIWF TYPE
♦INTRODUCTION
This wire wound type chip inductor is widely used in communication applications such as cell phones, pagers, television tuners, radios and other electronic devices. The wire wound features are advance in higher self-resonate frequency, better Q factor and much stable performance.
♦FEATURES
-Operating temperature-40
℃
to +85
℃
.
-Excellent solderability and resistance to soldering heat.
-Suitable for flow and reflow soldering.
-Good dimensions, high reliability and easy surface mounting for assemble.
-Wide range of inductance value for flexible needs.
♦DIMENSIONS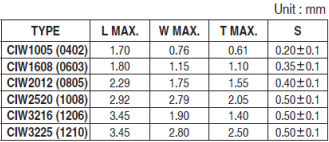 ♦CIW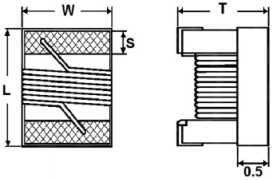 ♦CIWF