Products DIP Resistor
METAL OXIDE FILM RESISTOR (NON)
METAL OXIDE FILM RESISTOR (NON)
TYPE: NON-12 , NON-25S , N0N-25 , NON-50S , NON-50 , NON-100S , NON-100 , NON-200S , NON-200 , NON-300S , NON-300 , NON-300B , NON-400 , NON-500S , NON-500 , NON-500B , NON-700 , NON-700B , NON-1000 , NON-1000S
METAL OXIDE FILM RESISTOR
MO(FLAME-PROOF COATING TYPE)
NON(NON- INDUCTIVE TYPE)
♦
INTRODUCTYION
Liquid SnCI 4 heated to 400~700°C and sprayed on ceramic rod to make it a thin film on the surface of
rod. Then SbCI 3 added to make it acid film. As the film is strong metal oxided, it will last for years with
very little change of resistance. SYNTON - TECH's MO series are especially suitable for the requirements
of large load or high temperature operation.
♦
FEATURES
-Excellent long-term stability and reliability!
-Met MIL-R-22684B requirements!
-Extremely low for annual shift!
-Excellent flame retardant coating with
"freon" resistant performance!
-Can produce high resistance value to
replace wire wound resistor with lower cost!
-Tolerance available: ±5
%
, ±2
%
, ±1
%
-Voltage available:1/8W, 1/4W, 1/2W, 1W,
2W, 3W, 4W, 5W, 7W, 10W
-Based on application concerns, MO rods
can be replaced by CR or MF rods.

♦
SPECIFICATIONS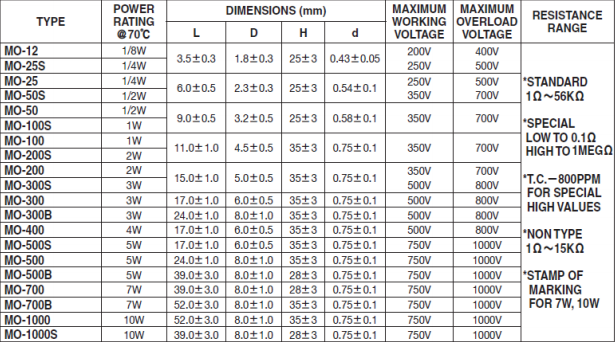 Liquid SnCI 4 heated 400~700℃ and sprayed on ceramic rod and became a thin film on the surface of rod.
Then SbCI 3 added to make it acid film. As the film is strong metal oxided, it will last for years with very
little changeof resistance. SYNTON-TECH's MO series are especially fit for the requirements of large
load or high temperature operation.