Products DIP Capacitor
MULTILAYER CERAMIC CAPACITOR (MLC)
MULTILAYER CERAMIC CAPACITOR (MLC)
TYPE
:10V , 16V , 25V , 50V , 100V , 250V , 500V , 1000V , 2000V
MULTILAYER CERAMIC CAPACITOR
MLC TYPE
♦FEATURES
-Voltage Range:10V~3KVDC.
-COG, NPO, X7R, X5R, Y5V Temperature coefficients.
-High capacitance in miniature size with high performance and reliability.
-Lead material: Tinned copper wire.
♦CAPACITANCE RANGE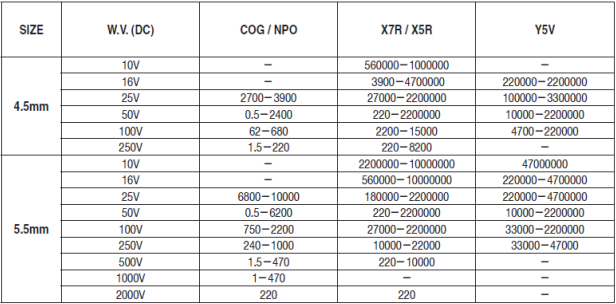 NPO: Temperature compensation type, have little or no change in capacitance with variation in temperature.
X7R: Temperature stable type for by-pass and decoupling in radio and television receivers, computers server system.
Z5U/Y5V: General type by-pass and filtering applications.