Products DIP Capacitor
POLYESTER FILM CAPACITOR (M/C)
POLYESTER FILM CAPACITOR (M/C)
TYPE

:100V , 250V , 400V , 630V
POLYESTER FILM CAPACITOR
M/C TYPE
♦INTRODUCTION
M/C Type is made by inductively wound with polyester film dielectric and aluminum foil as the electrode with copper-clad steel leads and epoxy resin coated. They are suitable for blocking, bypassing and coupling in timing circuits and filters. They are ideal for the application in TV, Radio, Tape-recorder, stereo and other consumer electronic equipments.
♦FEATURES
-High moisture resistance.
-Good solderability.
-Available on tape and reel for automatic insertion.
-ESR. can be minimized.
-Capacitance tolerance: ±5%(J),±10%(K)±20%(M).
-Capacitance
:
1uF~0.47uF(470nF)
♦DIMENSIONS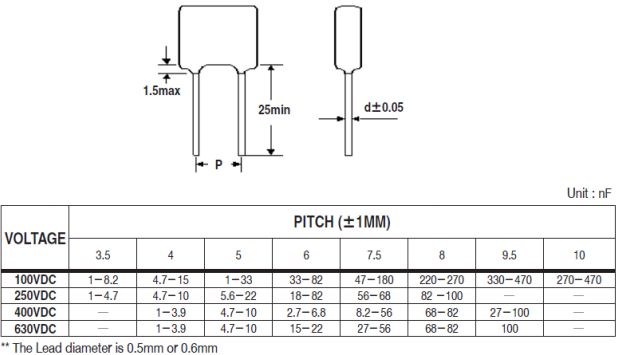 *** The Lead diameter is 0.5mm or 0.6mm
1. High stability.
2. Non-inductive.
3. Miniature Size.
4. Self-healing characteristics.