Products DIP Resistor
WIRE WOULD RESISTOR (KNP)
WIRE WOULD RESISTOR (KNP)
TYPE: KNP-25 , KNP-50 , KNP-50S , KNP-100S , KNP-100 , KNP-200S , KNP-200 , KNP-300S , KNP-300 , KNP-400 , KNP-500S , KNP-500 , KNP-500B , KNP-600 , KNP-700S , KNP-700 , KNP-800 , KNP-1000S , KNP-1000
WIRE WOULD RESISTOR
KNP(FLAME-PROOF COATING TYPE)
NKNP(NON-INDUCTIVE TYPE)
♦INTRODUCTYION
KNP
To wind the alkalineless ceramic core with metal alloy resistance wire and coating with silicon resin which
makes wire would resistor KNP series.
♦FEATURES
-High stable pulse characteristics!
-Super heat dissipation!
-Instant overload capability!
-Low noise!
-No annual shift on resistance value!
-Tolerance available: ±5
%
, ±2
%
, ±1
%
-High voltage and special tight tolerance are
available on request!

♦SPECIFICATIONS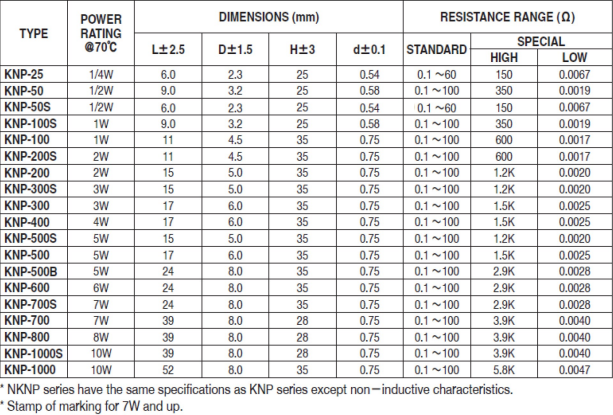 To wind the alkalineless ceramic core with metal alloy resistance wire and coating with silicon resin which makes
wire wound resistor KNP series.