Products DIP Resistor
FUSIBLE RESISTOR (RFB)
FUSIBLE RESISTOR (RFB)
TYPE: RFB-25 , RFB-50 , RFB-100 , RFB-200
FUSIBLE RESISTOR
FRN(THIN FILM TYPE) RFB(ANTI-BURST TYPE)
FKN(WIRE WOUND TYPE) RFA(RATED CURRENT TYPE)
♦FRN
♦FEATURES
-Ideal circuit opening controller, disconnecting
units from overload rating specified.
-Flame retardant coating.
-Body coating is in gray or green, with 4 or 5
color bands or stamping.
-Too low or too high ohmic value can only be supplied case by case.

♦RATING
&
DIMENSIONS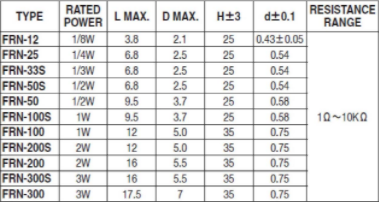 ♦FKN
♦FEATURES
-It is suitable for protecting circuit boards.
-Uniform in fusing time.
-Noncombustible insulation coating.
-Low temperature coefficient.

♦RATING
&
DIMENSIONS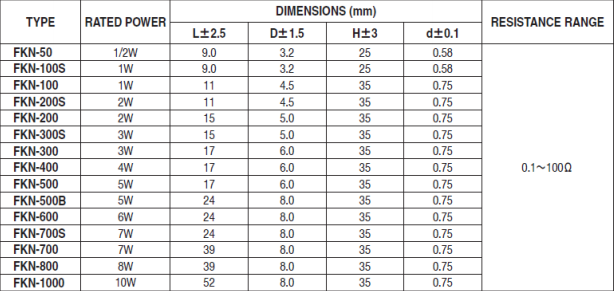 ♦RFB
♦FEATURE
The ANTI-BURST Type wire wound of film-type fusible resistors can provide reliable and environmentally safe fusing behavior It's also reliable in performance and endurance for surge voltage.

♦DIMENSIONS

♦FRA
♦FEATURES
-The rated current fusible resistor combines time delay
characteristics with proven reliability.
-Big electric current.
-High stability.

♦RATING
&
DIMENSIONS

The Anti-Burst Type wire wound or film - Type fusible resistors can provide reliableand environmentally safe fusing behavior, reliable performance and endurance tosurge voltage.
防爆式繞線或皮膜保險絲, 提供無爆裂與保護環境的安全熔斷特性, 準確的熔斷性能, 以及額定功率下作業的持久高穩定性.防爆式繞線保險絲 (RFB-TYPE) 通過UL認證, 提供無爆裂與保護環境的安全熔斷特性.