Products DIP Resistor
POWER RESISTOR (TR)
POWER RESISTOR (TR)
TYPE: TR100 , TR50 , TR35 , TR30 , TR20
POWER RESISTOR
TR TYPE
♦FEATURES
-Power rating 20W/30W/35/50W at 25
℃
heatsink mounted.
-TO-220 style power package.
-Single screw mounting to heat sink only for 30W and 35W.
-Molded case for protection and easy for mounting.
-Isolated case.
-Non-inductive design.
♦APPLICATIONS
-Work as gate resistors in power supplies.
-Snubber Circuits.
-Load and dumping resistors in CRT monitors.
-Terminal resistance in RF Power A.
-Voltage regulation.
-Low energy pulse loading.
-UPS
♦DIMENSIONS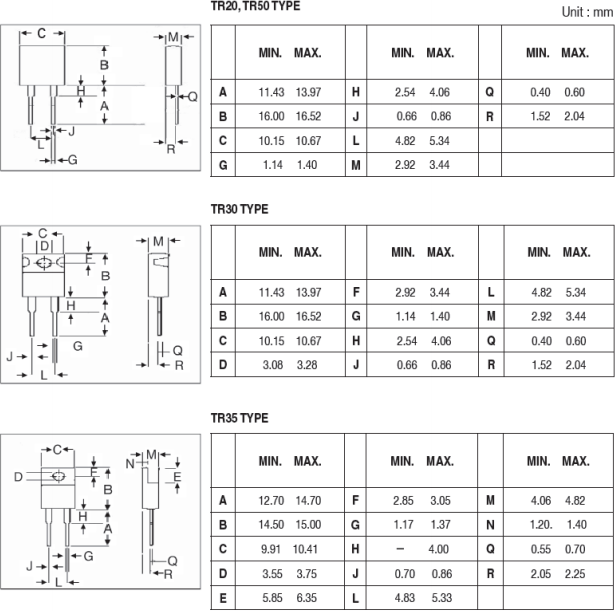 ♦ELECTRICAL CHARACTERISTICS SPECIFICATIONS
■Operating Voltage:350V Max.
■Working Temperature Range:-65
℃
to+150
℃
■Dielectric Strength:1800VAC
■Resistance Value
<
1Ω available
■Insulation Resisance:10GΩ min
♦ENVIRONMENTAL CHARACTERISTICS
-Lead Material: Tinned Copper.
-Without a heat sink.
-When in free air at 25
℃
,the TR20 is rated for 3W, TR30 is rated for 2.25W, TR35 is rated for 2.5W and TR50 is rated for 3W .
-The case temperature is to be used for the definition of the limit for power applied.
- The case temperature must be measured by contacting thermocouple to the center of the designed heat sink which is mounted on the component.
-Thermal grease should be applied properly.
Gate Resistors in Power Supplies.
Snubber circuits
Load and Dumping Resistors in CRT Monitors.
Terminal Resistance in RF Power Amplifiers.
Voltage Regulation.
Low Energy Pulse Loading.
UPS