Products DIP Capacitor
METALIZED POLYESTER FILM CAPACITOR (METAL)
METALIZED POLYESTER FILM CAPACITOR (METAL)
TYPE
:100VDC , 250VDC , 400VDC , 630VDC
METALIZED POLYESTER FILM CAPACITOR
METAL TYPE
♦INTRODUTION
METAL Type is constructed with metalized polyester film dielectric, copperply lead and epoxy resin coating.
They are suitable for blocking, coupling, decoupling, filtering, bypassing the timing circult. Ideal for use in telecommunication equipments, data processing equipments, industrial instruments and automatic control system.
♦FEATURES
-High stability and self-healing characteristics.
-Miniature size and Non-inductive.
-Dipped epoxy coating protects it from humidity.
-Capacitance range:0.01~10uF
-Capacitance tolerance: ±5%(J), ±10%(K), ±20%(M)
♦DIMENSIONS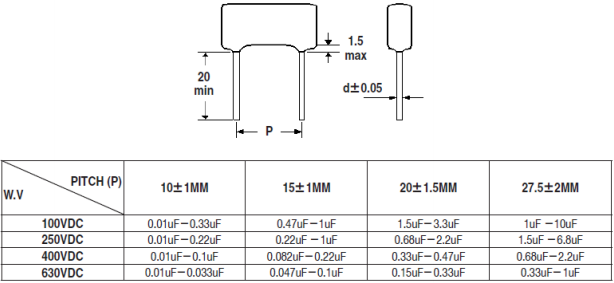 ***The Lead diameter is 0.6mm or 0.8mm
Metal Film Capacitor is constructed with metalized polyester film dielectric copperply lead and epoxy resin coating. They are suitable for blocking, coupling and ideal for use in telecommunication equipments……